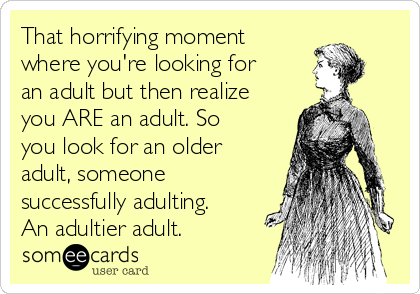 I'm still waiting to really feel like "an adult". I pay bills, I own a home, I have a car loan, I have a husband and a child, I'm 45 now and yet most of the time I still feel like I'm just totally winging it.
So what does being "an adult" really mean? Well, here's a few things I've come up with...
Ability to Google life's mysteries, like what to make for dinner.
Ability to search YouTube for assistance, like figuring out how to use software or paint a tree.
Willingness to take responsibility for your actions, your words and what you expect from yourself.
Remaining optimistic, but not naive.
Restraining pessimism.
Figuring out that road rage is a waste of time and energy. You'll get there when you get there, and bonus, you'll be alive.
Audiobooks help stave off road rage.
Karma is real.

(And it's going to get that jerk who cut me off...)

Work with, and never, ever against, Murphy's Law.
Never say "never" - trust me on this one.
The Universe likes to make you eat your words and especially likes the taste of "never".
Life is not a competition or a race, it's a journey.
No one gets out alive, so enjoy it.
Happiness is a choice. Choose to be happy.
Put everything in perspective - will [life-shattering-event] matter in six months or five years? Perhaps, but you'll be stronger for it, even if it sucks now.
Perhaps it all boils down to not losing your wide-eyed optimism and enjoyment of life :)

Don't grow up, it's a trap!
What are your adulting tips?